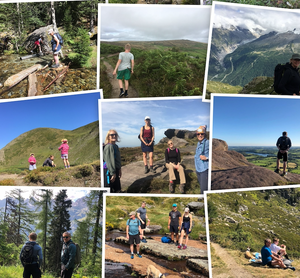 Top tips for day trips
It's all in the planning.
Successful day trips, to make everyone happy, are all about planning. Here are a few things to think about before you go.
Where to go
What to take
What time to leave
How to get there
What to eat
What to wear
What to do when you get there
But, as much as we love a good plan, sometimes the day out can be a lot more enjoyable if you allow a bit of flexibility. For example, check the forecast beforehand. You might want to change your plans or pack different clothes and snacks. Or perhaps it might be possible to time your trip well to miss the showers. If rain is forecast, make sure you have good waterproofs. If it's going to be hot don't forget the suncream and sun hats. And if it's going to be cold maybe think about taking warm snacks .
If you're planning a walk everyone will need comfortable shoes and socks. Avoid the blister or foot ache moans. If you're walking make sure it's fun and you don't walk too far. Entice little legs to go further by setting a target to walk perhaps with a reward, or sticker chart. 
Try get the children involved in the planning and perhaps the navigation too. It'll keep them busy and engaged and also give them the feeling of control over how far you go, or not. Check out our pocket pals for some map reading fun.
Children get hungry. Pack a lot of snacks. Make sure you have a variety and things that will travel well. If it's cold, have something hot but if it's warm avoid the chocolate.
Games. Make it fun. Play games along your route, something easy to carry like these Walk and Wonder cards. or take some cards, Dinky Dice, A Letterpress Chatterbox or some pocket pals to play when you're settled somewhere. Of course a PACMAT is the perfect place to sit.
---