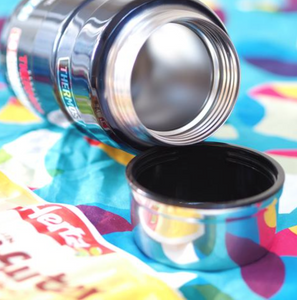 Just getting out of the house!
Getting the kids out for a walk can be a time consuming business. We always picnic, of course. In our experience we've found it quicker to throw things in the rucksack and make the picnic when we get there. Along with Mia's top hot dog in a Thermos tip here are a few others.
Find a good, compact cooler bag. We use a small rectangular one from Thermos. Keep a simple penknife in it. 
- Pop a whole avocado and a teaspoon in the bag.
- Endive is compact and easy to carry, delicious crunch salad.
- Spice things up with some radishes. They travel well.
- A whole sweet pepper can be chopped when you get there.
- A few gherkins can add a bit of interest to any sandwich. 
- Hard boil some eggs the night before and take them with you in the shell.
- Pesto with the eggs, tricky to transport but very yummy.
Use good quality tupperware containers that will last you for years, not throw away plastic bags. And always take your rubbish home with you.
---