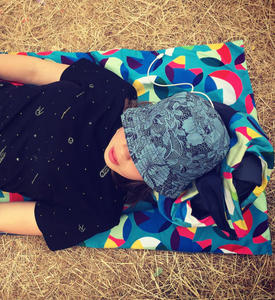 Festival packing list
What's on our festival packing list this year?
We are keeping an eye on the weather forecast, saving a few decisions until last minute. We don't want to lug things for miles to our camp spot if we don't need them.
A few old favourites:
Head torch
Always useful to find your way around the tent in the dark
String and pegs
If it rains you'll need somewhere to hang things to dry. If it doesn't rain you might want to create a sunshade, or attach a
reflective blanket
to keep the tent cool.
Ear plugs and eye patch
Incase of noisy neighbours or going to bed when the sun comes up!
Elephant tape
Ready to fix just about anything. 

Waterproof tote bag and bum bag
You'll want to take a few bits out with you during the day. Maybe an extra layer, water and suncream and of course. A bumbag can hold your wallet and phone close. (Our
PACMAT Carry Alls
can also work as sit mats.)
Suncream, sunglasses, sun hat and an umbrella!
If the sun comes out it can often be hard to find shade and you'll be spending a lot of time outside. An umbrella can provide shade at the camp.
Waterproof mat
Well of course. If you want something small enough for your pocket, choose a
Patch
or
Solo
. Or if you plan to share your PACMAT, a
Family
would be a better size. And if the weather turns you can use it as a waterproof cover.
Dried fruit
Kids get hungry. Festival food can be expensive. Dried fruit makes a handy snack which won't go off or melt.
Crackers and peanut butter
A good morning snack that won't go off.
A large water bottle
To take water back to the camp
A small water bottle
To take water out with you during the day
A carabiner
To
clip
things to your belt or bag 
Solar powered kit and spare batteries
Stay in touch (although plan for there to be no phone service!) You're bound to want to take photos and keep charged. 
Recycling bags
Keep your camp tidy and recycle wherever you can.

Boot jack
Getting wellies off without touching the boot. If it's muddy you won't want your boots in the tent. Pop a bag to put over the top of them to stop the rain getting in.
Old gardening gloves
Undoing muddy lace up boots
Old shoes
Don't wear your favourite shoes, they're bound to either get muddy or dusty.
First aid kit
A few basics. Antiseptic cream, insect bite relieve, antihistamine, paracetamol.
Loo roll, tissues and hand sanitiser
And something to keep the loo roll dry in, incase it rains.
Cards
For down time with kids at the camp.
Waterproof
ones might be a good idea.
Dress in layers
The weather in the UK is changeable. The evenings can get chilly.  
Lots more festival tips and info
---