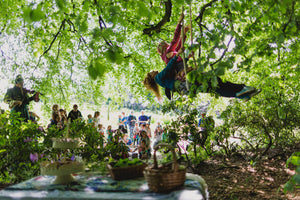 Wildhood children's festival
2nd – 4th June, Tullibole Castle, Crook of Devon, Near Kinross, KY13 0QN
A festival made just for children aged 12 and under, and their fun-loving families.
💕 MUST-DO EXPERIENCES 💕 Want to plan a WILDHOOD DAYCATION but don't know where to begin? 

🦒🐘🦁 The WILDHOOD Festival Parade - 3pm SAT + SUN
Take pride in your costume, stick your neck out - or up - and flaunt your SAFARI style in our WILDHOOD Parade! Join us at 3pm on Saturday and Sunday for an expedition through the festival grounds, led by our musical ranger, Adelaide! She'll teach you our secret parade song as you take a walk on the wild side…

🏴‍☠️ Venture Up To Viking Hill
Why are both a viking AND a pirate grave stone in the grounds of Tullibole Castle? Venture up to Viking Hill and uncover its secrets! Start by looking for the grave with a skull and crossbone. As they say, X marks the spot….

🌲 Get Lost In The Woods (And Find Yourself!)
A walk in the woods is always good for the soul, so take the trails less travelled and experience the unexpected!


🧙‍♀️ Wander And Wonder In The Witches Maze
Speaking of getting lost, within the grounds of Tullibole Castle, you'll be spellbound by The Witches Maze! This unique attraction is a woodland memorial to the 11 innocents who met their doom at Crook of Devon after 5 'witch' trials in 1662. As you wind your way through the mysterious maze, you'll also discover more about the power of words. Maybe that's why they call it spelling?

🧘 Rock Up To The Relax Retreat
One, two, three, and breathe. Give your little ones a moment to unwind in our time-out tipis, while you sneak a few minutes for a massage! Hands up who wants to make this a first stop?
---