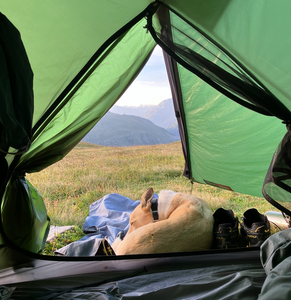 Wild camp with Basil
Arriving a week before the rest of the family arrived to have some quiet time in the mountains whilst working from home. Guy and Basil (our dog) thought they'd make the most of the weekend.

Guy packed a bag. Supplies for one night for him and Basil, his Alpkit Ordos 3 tent, sleeping bag and a PACMAT Solo for basil, only 200g and barely taking any space in the bag, it proved invaluable.

Parking at Notre Dame de la Gorge, they walked up the valley.

After a brief thunderstorm, while they sheltered in the boulders below the Col du Bonhomme, they pitched tent near the Col de la Croix du Bonhomme. Not far from the refuge of the same name... and settled down for an early night.

After the heavy rain the ground was soaking but the Pacmat provided a dry path to crawl into the tent, clothes were wet enough already and needed to stay on to dry over night

The night was cold and Basil got wrapped up in the PACMAT to keep warm. 

Waking in the morning to glorious fresh mountain views they packed up after the sun had dried the tent and the last of the kit and leaving no trace, and set off down to champieux for a fine Beaufort tart in the bar and then all the way back to notre dame, back to the van.
The whole journey was about 45km with over 2000m of elevation gain. All in the most beautiful scenery with views of the Itialien side of Mont Blanc.
---