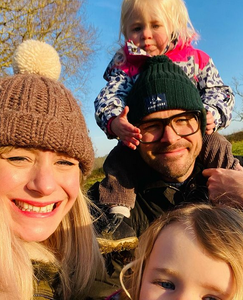 The designer behind the Animal Alphabet PACMAT
After spending over 12 years in the design industry, working on a range of big brand and not for profit organisations she started her own collection of illustrations whilst on maternity leave.

Catherine and her husband Dave have two girls who are crazily wild and fun and they inspired the name and a lot of her designs.
Her girls love to play with the Animal Alphabet print, spotting their favourite (T for Tiger).
Catherine has just installed her Arab Crown Folio c.1900 press which has been carefully restored by  AMR Logan Press and she is busy rolling out new designs. Have a look at her latest work here. All bright, bold and fun, like the Animal Alphabet.
---