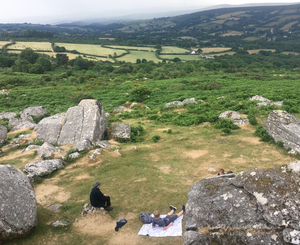 What type of Picnicker are you?
Pack:
  A. Book
  B. Badminton set
  C. Bottle of Wine
  D. None of the above
Food:
  A. Last night's leftovers
  B. Grab and go sandwiches
  C. Cheese and grapes
  D. Flapjacks and dried fruit
Location:
  A. Your local park
  B. Somewhere with loads of open space
  C. A spot with a great sunset view
  D. The top of a mountain

Mostly A's
The solo tripper: A picnic for you is a great chance to get out in the sun and switch off with a good book or simply as time to relax and reflect.
Mostly B's
The sporty one: A picnic to you is an opportunity for getting everyone together for some fun and games!
Mostly C's
The romantic one: You know that a picnic can be the perfect place for date night and love a quiet spot with a magnificent view.
Mostly D's
The hiker: You are a no frills-picnicker, packing just what you need for a well-deserved pit stop, at the top of a mountain or edge of a lake perhaps.


---