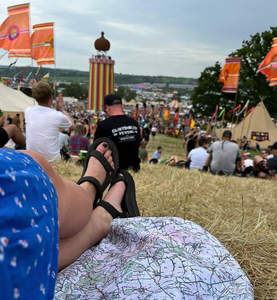 We're off to Glastonbury
Lucky us.
From our experience of camping, festivals and rain we've packed a few essentials:
Boot jack
After a trip through toilet mud nobody will want to give you a hand pulling your boots off. 

Old Gardening gloves
If you've opted for lace up walking boots and it's muddy it's nice to have some dedicated gloves for undoing the laces so that nobody actually has to get their hands muddy.
Recycling bags
Our Hackney ones work well for keeping a spare set of clothes dry in the tent, popping over our welllies to keep the rain out and then of course, taking our recycling home with us. 
Head torch
Keep your hands free to fumble for things with a bit of light.

String and pegs
After a downpour it's handy to be able to hang your things inside the tent. It avoids getting the rest of your gear wet and they might even dry out a little. 
Gaffa tape
Fix almost anything. 
Waterproof tote bag
You'll want a bag to carry things around the festival. Tissues, water, sanitiser gel... A canvas bag will get damp, even with an umbrella. And you can't place it on the ground. This tote is made from waterproof material and tucked under your arm should keep things dry. 
Waterproof mat
Light and easy to carry, this mat will come in handy if you want to sit on damp grass or just use it in the door way of your tent to stop your knees getting wet. If it starts to rain you can always reverse it and use it as a cover. 

Umbrella
Of course, useful in the rain but also very handy if it's just too hot and there's no shade.
Dried fruit
An easy to carry, long lasting snack that won't melt if it's hot and gives a quick energy boost.
A few other festival related things.
Tent
Make sure your tent isn't too large, you might find it difficult to find space to pitch it. If you don't have a tent, rather than buying one especially try checking out Tent Share.
Trolly
If you've got small kids or just a lot to carry a good trolly really helps.

Photo: Mother Freckle 
Festival collection
Our friends at Outdoor People have a good festival collection of everything you might need.
Festival information
We're going on an adventure has almost everything covered.
---