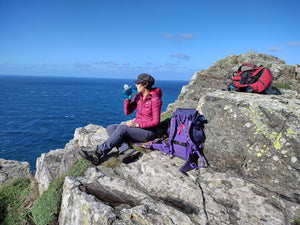 Walking the South West Coast Path
What do you do when you've got a couple of weeks off work in between jobs? Making the most of autumn days (and also being incredibly lucky with the weather) PACMAT Pals Katrin and Claudia headed off to walk a section of the South West Coast Path.
The Path stretches for 630 miles from Minehead in Somerset along the coasts of Devon and Cornwall with fabulous scenery all the way. Many walkers take about eight weeks to complete the path, often breaking it into sections. Katrin and Claudia only had five days.
This is how they split their journey:
Day 1 Train to St Erth change there for train to St Ives
Day 2 Bus from St Ives to Zennor walk from there to Pendeen
Day 3 Walk from Pendeen to Sennen Cove / Sennen
Day 4 Walk from Sennen to Treen via lands end then take taxi to Penzance
Day 5 Swim at Penzance lido and then train back to London!
Zennor to Pendeen
Gwyner in view, followed by a (very quick and chilly) dip
Cap Cornwall
. a few miles North of Land's End. Most of the headland is National Trust. With it's dramatic coastline it's very popular with walkers. And it's a perfect place for a to rest the legs and enjoy the view. (PACMAT Patch below).
Claudia demonstrating the size of the pasty she had for her picnic!
---