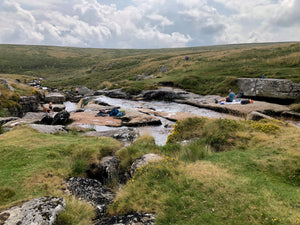 To the waterfall!
The forecast was good, the younger ones in the group were going to see friends, so we thought it was a good opportunity to plan a longer walk. We chose a spot with a waterfall which promised a wild swim. The perfect place to stop for a picnic.
We parked in the car park near the shop and visitors centre in Postbridge. The shop has lots of picnic supplies including rather large veggie pasties. After stocking up we set off along the path. It was a warm day, so we were dressed in T shirts and shorts. The gorse growing over the paths meant we had to do the "gorse shimmy." Turning sideways, breathing in, arms up... hoping none of our clothes would get snagged.
There were a few cows and sheep dotted around, so basil was safely on the lead.
We walked on, down, over a stream, up and over. Until we came to the waterfall.
. 
A perfect picnic spot. We saw a couple of other walkers, but generally it was very quiet. After munching our sandwiches we all went in for a dip (well, not Basil, he hates to get wet). It was refreshing!!
We mucked around at the spot for a while. I even tried my hand (and failed miserably) at a couple of group timer shots.
The swimmers started to get a bit chilly so we prepared to head back. My PACMAT was a bit wet, so I strapped it to the outside of my pack.
We walked back the same way we'd come up. It was great to see it from the other direction. Beautiful views and not a soul around.
. 
Everyone walked, happy chatting in their stride. We love a good walk and talk.
Much to the teens annoyance I did manage to get a better group shot. They'll thank me for it one day.
We walked back to the car park, and had a quick look around the Dartmoor visitors centre before heading back to the farm. A good day!
---