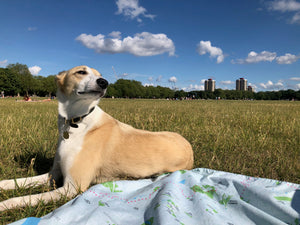 Ticking off the London Parks
How many London Parks can you get in one walk?
Heading off from our house on a sunny Saturday afternoon for a dog walk, I couldn't quite decide which of our local parks to go to, so Basil and I thought we'd try a few on a circular walk. Each park has its own personality. All, well most, are very popular and busy.
So we started off heading to our nearest park, London Fields. This was packed. I didn't dare let Basil off the lead. On hot weekend days there's a definite festival feel. It's quite a young crowd and gets busier as the day goes on. By mid afternoon it's almost impossible to find a patch of grass at all.
So, in search of somewhere quieter, we carried on and over to Victoria Park. The first part of Victoria Park was equally busy with bands playing and even dancing in the street. Wonderful, but not great for dogs on the loose. We crossed over into the North side and at the far end found some lovely space, placed our OS London Parks Family PACMAT down and had some refreshment (main picture). Basil enjoyed sniffing the other picnics coming over in the wind.
Rather than walking back the way we'd come, through the crowds, we checked the PACMAT and thought it best to carry on round to the Olympic Park. Here there were lots of young families out. I noticed an outdoor dance class for talented youngsters. It was much calmer than the party atmosphere in London Fields. There are nice areas of fresh green surrounded by plants. Ideal places for placing a PACMAT for a quiet read of a book and a gentle trickle of joggers and cyclists passing by, enjoying the outdoors.
Continuing our loop from here we walked North, over into Wick Woodland and the banks of the River Lea for a spot of shade. Then onto Hackney Marshes, the vast area of sports fields. There's so much more space here, despite quite a few people taking advantage of it. Kites flying, family picnics, foot ball and Frisbee games. But enough space for all. And big skies, lovely big skies. We again, placed our OS London Parks PACMAT out for a relax and to watch the clouds go by.
Feeling rested we set off for Millfields park. A very mellow, early evening hum of young families relaxing on the grass, enjoying being outside.
And onto Hackney Downs, where the evening was just hotting up. Lots of jolly multi generation gatherings with music, dancing and food. Weddings and birthday parties. Bunting and balloons in the trees. People with flowers in their hair and sparkly tops. The Star of Hackney Downs on one corner of the park has started doing take away so this side was especially popular.
And back home. What a tour. We are so lucky to have such a variety of green spaces in East London. Next time we'll try a different route, maybe taking in Well Street Common, Mabley Green, Springfield and Clissold Parks.
---