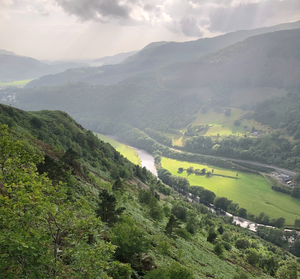 The precipice walk
Our first day at the cottage, near Dolgellau.

Family Norway were delayed on their journey, so we spent the first night at the cottage as just the three of us and Basil. The others finally arrived around lunch time and  although the grounds of the cottage were wonderful to explore we all ready to head out for a walk. It seemed only natural to try the most local and enticingly named Precipice Walk.

In the cottage information pack we read that the Precipice Walk is a scenic trail that offering breathtaking views of the Mawddach Estuary and the surrounding mountains. Known for its narrow path along the edge of a steep slope, providing a thrilling and unforgettable experience. It sounded perfect.

We set off from the cottage, quickly reaching the woodland with lush greenery along the river banks. Stopping to read the information boards about Post Liam yr Ewing, which means 'Bridge of the Deer's Leap." From here there is an accessible trail along an old tramway to a viewpoint over the Glasdir Copper Mine. The mine dates back to 19th Century, closing in 1815. It was here the Elmore brothers discovered the 'flotation' method of getting more copper out of waste material. We had a sit down, watching the river go by. A beautiful spot.


Walking on up we passed a sign showing we were entering the Coed y Brenin Forest Park. We walked through fields of sheep, along a stone path that bought us out up by some water, a perfect place for a picnic stop.



After a rest and some refreshment we walked along a grassy path with fresh summer bracken either side.
The path got narrower, taking us on up past the purple heather, revealing more view as we went.
Up and around the corner we could see the estuary, twisting its way between the hills, on out to sea. Yet another perfect place for a resting stop.
As we continued on around the corner the valley we'd started in appeared and we could see the little cottage we were staying in a long way down below. So far the day had been misty, but there was a shaft of sunlight trying to break through, lighting up the green velvet fields below. 

We walked on down, across the river and back to the cottage to pop the kettle on for a well earn cuppa. After a little rest, some were up for a swim in the river next to the cottage and some were up for more resting.
It was the perfect start to our week away in Snowdonia.
---