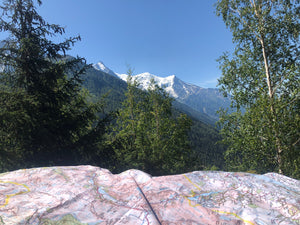 The Chapeau and beyond
It was a lovely, hot sunny day in Chamonix. We decided to walk up to the Chapeau, perhaps to treat ourselves to a pudding after our picnic on the way up (with our Ordnance Survey PACMAT of course). It's a very pleasant walk through the trees, in the shade a lot of the time, up from the picturesque village L'avancher. As you get closer to the Chapeau the path opens out, crossing a small waterfall stream, getting steeper until you arrive at the Chapeau.
. 
We were ready for some picnic pudding, but not having reserved a place, it was all full. We spent a little time admiring the fantastic views and drinking some chilled water before deciding to carry on on the path above. 
. 
The path above is steep and sketchy, in places we had to use ladders. Some sections were a little alarming... "don't look down"... Finally we arrived at the Tete de Prapators, very thankful to find a wide enough flat area for us to be able to sit and have a snack in the shade of the trees.
From here we walked down. It seemed easy, leading us to the meadow below pendant bowl. .
. 
. 
After a shady snack stop at the bottom of the meadow we felt ready to head down to the valley, and one of our favourites, the Prarie in Les Bois. What a perfect place to relax in the shade of an umbrella, with the view of Mont Blanc, after a very long, but lovely day.
---