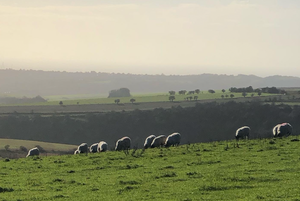 Sunday on the South Downs
The forecast looked good, we packed a picnic and looked up a route on Komoot. Between 3-4 hours on the filter, we'd set off later than we hoped and ideally needed to be back before dark. Komoot offered us a circular route covering about 16km. Perfect.
Having recently passed her driving test our eldest was eager for the practice and drove to our starting point from granny's house (in granny's car)... Ditchling Beacon. It was a faboulous sunny Sunday, so inevitably there were lots of cyclists to negotiate on the way up the hill. Safely parked up we packed up our rucksacks - extra layers, a  PACMAT picnic blanket and a picnic, and got ready to set off. The first stop was Ditchling Beacon itself with a far reaching windy view from the trig.
From here we walked along the ridge with a wonderful view all the way. It was a little colder than I'd expected and I was pleased to know I had the gloves I'd packed to pop on if needed. Following our route we crossed fields some with sheep, where we needed to put Basil on the lead, some without where he could play and prance about freely. We then headed off on a woodland path. As it went down we found it got a little muddy, but we found routes around the edge. We walked through a couple of deserted barn gatherings with giantic farm machinery and huge stacks of hay. Along chalky paths and beside bramble hedges.
We were very self controlled passing the horsebox selling cake by the windmill car park, and walked on by.
Through the overhanging winter woodlands...
where we met a dog who barked over excitedly for several minutes everytime he reached a gate. And through large agricultural fields with glowing clouds seeping towards us from over the hill. Catching a glimpse of the sea, just about able to make out windfarms standing to attention on the horizon.
And back into the woods. Time for a little rest and snack.
The picnic we'd packed was nothing special... a hunk of cheese, a little salad and some fruit. After a munch (and a few moments lying down gazing at the branches above) we set off again. Back on up, over the hills... and up again. Ready for another sit down to catch the last of the day's sun.
The weather was turning and starting to look like we'd get a soaking, but we just about manged to escape.
Heading back towards the car I was glad to know I had a head torch in my bag, just incase..
A good weekend done. Just me, our daughter and our dog. We left the boys at home. It was the perfect get away with lots of time to chat and lark about. I'm so lucky she likes walking (and picnics).
We stayed at my mum's house, so we got to visit her too.
---