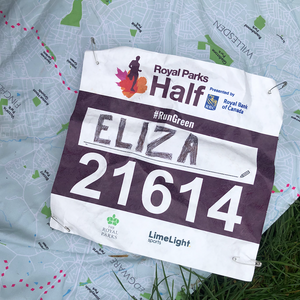 Royal Parks Half
When my sister, who is several years younger than me and a keen runner, asked if I wanted to join her running the Royal Parks Half I mentioned it to our daughter Eliza. Having never run a long distance before I was suprised when she jumped at the chance. A snap decision, while I was still pondering, she was signed up  and organised to fundraise for World Child Cancer.
I decided I'd be better off in the support team. After a few weeks of hard training (her, not me) it was finally the day. Nervous and tired (an early start), we headed off for the start line. There was a great atmoshpere at the start village and some very long queues for the information desk and toilets.
Not long before their start time, as support team, I got to hold all of the abandoned clothes and bags. They (our team of four runners including Eliza and my sister) walked to the start line. And they were off!
I quickly went round to "Mile 4" to see if I could grab a glimpse. As they came past I was relieved to see how easy the seemed to be finding it. 4 miles was quite early on. Cheering and catching a few very bad photos I scuttled off to see if I could catch them again at marker 5 and 8. I was too slow for 5, but caught them on the way back round at 8 just behind the man running in a tutu.
Then off to the finish but they were too fast. I only saw them after they'd gone through and collected their Medals. But luckily I was there with the London Parks PACMAT, ready for some serious stretching and resting.
Well done team!
---