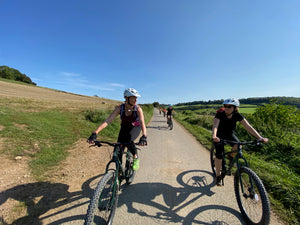 Riding with Gutsy
A great benefit of having a partner with a broken leg is that there's always someone at home to be with the kids. To treat myself, to recover from the stressful journey home (I had to drive from France, through Italy to Germany and then back to London having not driven in over ten years), I decided at last minute to book a Gutsy Girl trip. Being short of time the day outing to Bath sounded perfect. 
In Chamonix I've had a little dabble with mountain biking with the kids. They seem to just be able to get on and go. I have found it hard on the steep paths and often found myself locking my elbows... and falling off. So a day mountain bike coaching sounded just right for me. And, I couldn't believe my luck when I saw the weather forecast. Blue skies all day. 
We had an early start for Paddington to catch our train to arrive in time for a 10am start. The journey went smoothly and we were met at the station by our friends Martha and Claire. Martha, a friend of Eliza's who has recently moved to Bath was going to spend the day with Eliza and I'd persuaded Claire, Martha's mum, to come mountain biking with me - a great way for her to get to know the area.
I've often been through bath on the train but I don't think I've ever stopped and walked around. After London it seemed so majestic and clean. We were easily able to walk from the station to the meeting place for our adventure to begin.
Darroch from wild swim ride run kitted us out with beautifully maintained bikes and when we were all ready and had introduced ourselves we set off along the tow path. We were promised a tour around the Bath countryside and that's exactly what we got. After a long stretch through a dark tunnel, passing the odd head torch of another cyclist or runner, we came out into a woodland. "See how you go and watch out for the barbed wire." It was a steep, narrow path with lots of tree root ruts running alongside a barbed wire fence. A few of the group were a little intimidated and ended up walking. Next up, a lovely path through hedge row leading to green fields and up to glorious views. Down one lush hill and slowly, slowly up the next until we arrived at the Long Barrow, Stoney Littleton.
Claire on the Ordnance Survey Peak District PACMAT
We parked up for a picnic. The weather really was just perfect. Sunny with a little breeze. After our picnic we headed off for some wet and muddy woodland paths... up and down, up and down... and finally a ford, where we all got a bit of a soaking (thanks Darroch). Up through the villages, it felt a million miles from Hackney. After a couple more snack stops and even cycling through a castle we ended up back on the tow path and rode back into Bath.
Gabby Malpas Poppy PACMAT - a favourite with the kids for swimming adventures.
Eliza and Martha, meanwhile, had spent the day wild swimming near the final cafe stop.
We all met up, exhausted but throughly satisfied. I'd love to go back and do it again, putting into practice the things I'd learnt. We said our goodbyes and hopped on the train back to London, covered in mud. It felt good.
Photos thanks to Darroch
To book a trip visit GutsyGirls
---