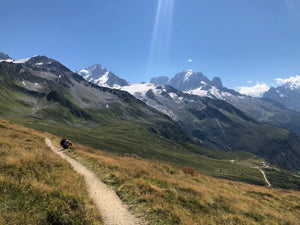 Myrtille crumble prep
We all LOVE Myrtille crumble. The weather looked glorious and we had a multi generation group - so berry picking seemed like a good plan to involve the young and old.


After finding a good spot for base, with a magnificent view, we all set to work. Even Basil, the dog, joined in, although not many of his made the container. 
Once the containers were over flowing we sat down for a picnic baguette and cheese before heading home to get cooking the pudding. It always tastes better when you've picked the fruit yourself.
Basil: When he wasn't munching, he was keeping watch from his PACMAT.
---