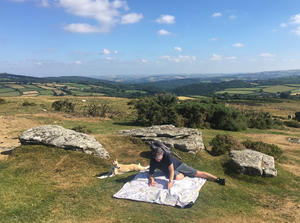 Picnics, maps and PACMAT®
Why is a PACMAT® picnic blanket the perfect place for a map?
Picnics are a great time to stop, rest and chat. What better conversation starter than a map? Sit in the middle of your favourite National Park with a cheese sarni and plan your next adventure, or reminisce about favourite places you've visited.
PACMATs are designed to be light weight and compact, so they are easy to pop in your rucksack and take on any adventure. Making them the perfect picnic blanket for any keen walker or outdoor family. The carefully chosen fabrics allows for high definition print of even the most detailed map. Backed with lightweight rip stop nylon, giving you a dry place to sit to plan your next adventure.
We have always been facinated by maps. When we went to Ordnance Survey back in 2017 with our idea to print their maps on our PACMAT® picnic blankets we were over the moon that they thought it was a good idea too.
Our first set of Ordnance Survey PACMAT® picnic blankets had to include Dartmoor, our favourite National Park. We've also covered London Parks, Snowdonia, Brecon Beacons, Glasgow, Lock Lomand & Firth of Clyde, The Lake District, Ise of Arran, Peak District New Forest along with large map of Great Britain and an Explore picnic game.
Since our initial collection we have expanded our OS range of PACMATs to cover even more of the UK. Explore the entire collection here.
---