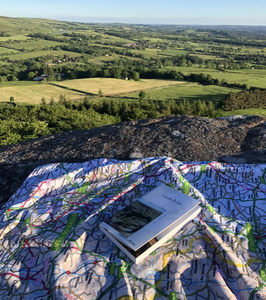 PACMAT Christmas reading list
As Christmas approaches, here is a list of books we think would make great gifts for the outdoor lovers in your life, (or just as a treat for yourself!)
100 Great Walks with Kids 
Jen Benson and Sim Benson 
This book is perfect for families with children, including buggy and carrier friendly routes. There are ideas for everything from beaches and woodland to lakes and woodland including café stops along the way.


The Book of Knots 
Geoffrey Budsworth and Jason Dalton 

The perfect book for anyone seeking to learn essential outdoor survival skills. This book contains clear diagrams and step-by-step instructions for tying over 125 practical knots.


Forage: Wild Plants to Gather and Eat
Liz Knight 
Beautiful botanical illustrations by artist Rachel Pedder-Smith accompany international recipes for food made from delicious foraged ingredients.


The Alps – A Natural Companion 
Paul Gannon and Jim Langley

This book is perfect for Alps beginners, including information on the mountains' geology, flowers and walks.
 
MICROADVENTURES
Alastair Humphreys 
"Climb a hill, jump in a river, sleep under the stars" Microadventures is the book for those who have come to think adventure is out of their reach. This book has a range of ways you can adventure with limited time, money and equipment.


The Peak District Guide 
Athena Mellor 

This is the ultimate guide to the Peak District, containing walks, pubs cafes and accommodation. With simple and clear maps and stunning images.


The Peak District 
Phil Sproson

This is a stunning collection of 100 photos taken in the Peak District National Park, contained in a hardback book, perfect for inspiring your next visit.
For the youngsters

Extraordinary Travellers 
Karen Beddow and Lyndsay Macaulay

This story book collection from Mini Travelers is perfect for reading comprehension tasks for ages 8 to11
The Dartmoor Christmas Tree
The Two Blondes
A very special Christmas story set in the equally special Dartmoor National Park


101 Things For Kids To Do Outside
Dawn Isaac
Packed with ideas for things to do with kids outside. From quick 10 minute activities to a full day of fun and experience.
---