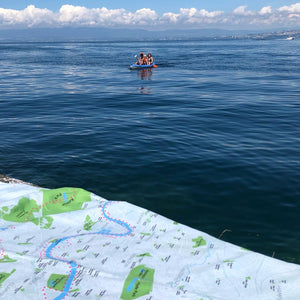 On the shores of Lake Geneva
Dear friends of ours moved earlier in the year from Hackney to France. We have missed them not being just down the road so when we were only about an hours drive away in the summer, we decided to go and visit. The weather was scorching which was perfect for cooling off in the lake. Their house is right on the water. Underneath the decking is a lock up of toys - paddle boards and canoes. The kids helped themselves and set off for Lausanne on the opposite side. It was further than they thought! I relaxed, as much as I could, wondering if they'd ever return, on my London Parks PACMAT.
After tea back at the house we went for a walk along the banks of the water. It was so mellow and friendly. We jumped, splashed and swam into the sunset. They've certainly picked a great place to be. We'll be back. 
---