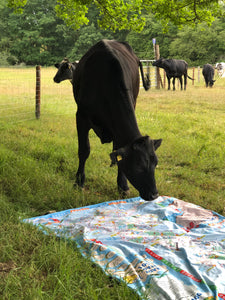 Nosey Cow!
It had been a hot, steamy week in London. A group of us from Hackney decided to treat the kids to a refreshing wild swim. A day of mucking about jumping and splashing at Meadway, Kent. Known for it's easy access swimming and a bridge for the kids to jump off.
We made a base with, of course, a lot of PACMATs. The cows took great interest in the Ordnance Survey Game Mat. First one, then a whole crowd came to see. 
 After a lot of dipping, playing ball and lounging in the shade we headed back into the heat of the city. A wonderful day trip. 
---