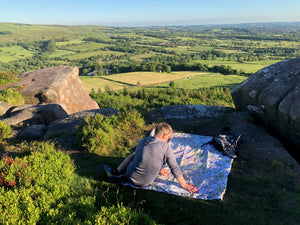 National Parks bucket list
Here are our top reasons for visiting Britain's National Parks
The Brecon Beacons is a mountainous National Park, rich with legend, culture and prehistoric discovery. It is on out bucket list for:
• Guided trips of one of the most significant cave systems in Europe.
• The world famous Hay Festival of Literature and Arts.
• Mysterious castles and charming villages.
• Stunning walking routes to the top of Pen Y Fan, the highest peak in South Wales.
The Norfolk Broads is gentle countryside escape, with rolling landscapes as well as an endless array of navigable rivers and wetland. It is on our bucket list for:
• Wildlife like no other. The Broads are home to a quarter of the UKs rarest species including the Swallowtail butterfly which cannot be found anywhere else in Britain.
• Gentle and picturesque walking and cycling routes.
• Exploring by boat, like Norfolk's native Wherry- a wide and shallow boat designed just for the Broads.
• Plenty of opportunity for sailing, canoeing and paddle boarding.
This National Park is a mix of tranquillity and drama. There are quiet glens like the namesake Trossachs glen, as well staggering hills and mountains. It is on our bucket list for:
• Loch Lomond. An obvious choice for any bucket list is swimming in Britain's largest lake. See here for tips on swimming safely.
• Climbing Ben More
• Explore at your leisure by pony trekking
• Walking the West Highland Way. This longer route around the national park is well worth the views along the way
The Cairngorms, in Scotland, is the home of some of the UK's tallest mountains, but has activity opportunities for all ages and abilities. It is on our bucket list for:
• Mountain biking and hiking. The Cairngorms are of course the perfect place for intense mountain biking and hiking but there are plenty of spots for gentle strolls by the lochs.
• Snowroads Scenic Route. This 90 mile route is an ideal way to explore the national park with stunning views the whole way.
• Snow sports. You won't need to leave the UK to ski this winter…!
• Britain's only free-ranging herd of reindeer. 150 reindeer live in the national park, need we say more?
Our personal favourite National Park is a vast and beautiful moorland filled with forests, rivers and rock formations. It is on our bucket list for:
• Tors. There are over 160 tors in Dartmoor. The impressive granite formations have been the source of much folklore and can provide an exciting end goal for walks on the moors
• Postbridge Clapper Bridge. This famous and historic bridge crosses the East Dart River and is a great starting point for a walk to Bellever Forest Tor.
• Okehampton Castle. These castle remains date back to 1068 and make a great morning of afternoon trip
• Widecombe in the Moor. This intriguing 19th century village is a must visit.
Exmoor is a beautiful blend or woodland, moorland and farmland with dramatic cliffs overhanging the Bristol channel. It is on our bucket list for:
• Stargazing. Take a picnic mat to Dunkery Beacon, the highest point in Exmoor for a spectacular starry display.
• Check out the grade ll listed funicular Cliff Railway
• Seal spotting on a boat trip of the island
• Exploring the Exmoor coastline in an organised kayak trip
The Lake District is full of tall mountains and, as the name would suggest, many incredible lakes. It is on our bucket list for:
• Climbing Scafell Pike, England's tallest mountain
• Swimming in the lakes. Not all lakes are swimmable and safe swimming practices should be used. Crummock Water, Grasmere and Wast Water are just a few of the many great swimming lakes
• Grasmere. A delightful village full of pretty cottages, shops, pubs and cafes.
• Helvellyn. One for more experienced climbers perhaps, Helvellyn is the highest point of the Helvellyn mountain range
The New Forest has areas of coastline, cliffs, ancient woodland and moors. It is on our bucket list for:
• Exploring the coastline by foot or ferry
• Walking and cycling. The New Forest has over 100 miles of off-road cycling routes and the ancient woodlands make for exciting walks.
• Local events. There are regular farmers markets and New Forest producers markets. Plus for 3 days in July The New Forest Show takes place.
• Animals. Ponies, cattle, donkeys, and sheep will please any animal lover. These local creatures can be spotted walking through villages in the national park and in September you may experience pigs roaming free for a process called Pannage.
Northumberland is known for its breath-taking landscapes, clear skies and pristine rivers. It is on our bucket list for:
Exploring Hadrian's Wall by walking routes such as the Cawfields Quarry Circular.
Stargazing in the Dark Sky Park - Europe's largest area of protected night sky.
Taking pictures at the dramatic Sycamore Gap.
This National Park has endless amounts to offer with its blend of moorland, coast, forest and dale. It is on our bucket list for:
This coastline is full of ammonites and other fossils.
Spotting the sea life including White-beaked dolphins and minke wales.
Exploring the rich history. This national park is contains gothic churches, medieval ruins and was even the home of the famous Captain James Cook.
Though the name may suggest mountains, the Peak District is moorland, full of great walking trails and picturesque picnic spots. It is on our bucket list for:
Incredible views at the national park's highest point – Kinder Scout.
Picnicking along the Mam Tor walking route.
Rewarding yourself at the second-highest public house in England - The Cat and Fiddle, where you can also find the Forest Distillery.
Pembrokeshire
This spectacular seaside National Park is well worth a visit for its rich coastal ecology and magnificent views. It is on our bucket list for:
The Pembrokeshire Coast Path –a walking route voted among best in the world.
Visiting award winning beaches including Freshwater East, Abereiddy, Caerfai and West Angle Bay to name a few.
Whale, dolphin and rare bird watching.
Snowdonia, the home of one of Great Britain's famous 'Three Peaks' is also home to vast and beautiful lakes and endless great hiking routes. It is on our bucket list for:
Picnicking on Wales' tallest mountain, Snowdon.
Fishing in one of Snowdonia's 100+ lakes.
Finding one of the national parks unique 'Snowdon Lilies'.
Otherwise known as 'the gateway to England', this National Park is a place to visit for woodland walks and hilltop strolls. It is on our bucket list for:
Visiting the Seven Sisters, a series of chalky white cliffs.
Getting lost in the ancient forests of Kingley Vale.
Walking and picnicking along the popular Glynde route.
This National Park has a long history of traditional farming, providing a unique pattern of dry stone walls which wind through the beautiful heathery moorlands. It is on our bucket list for:
Visiting the limestone cliffs of Malham Cove.
Joining Wordsworth and Turner in appreciating the wonder of the Aysgarth Falls.
Experiencing the impressive architecture of the Ribblehead Viaduct.
See our full National Park PACMAT collection here
---