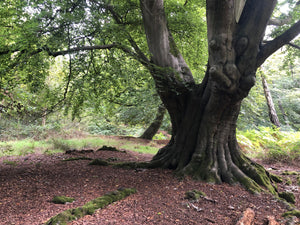 National Get Outside Day
Today was National Get Outside Day.
We decided to head slightly further than our usual local park, on the train to find some greenery. Basil, our dog, loves a sniff around the forest especially in the autumn leaves, while the squirrels are lurking around the oak tree trunks. We're so lucky that our local station is only a few stops away from Chingford, the stop for Epping Forest. Basil is a good train rider although he often gives longing stares to anyone eating a cheese sandwich on their journey.
When we hopped off the train it was only a couple of minutes walk to the start of the path. We wanted to try a new route none of us had done before. We used Outdoors GB to find our way.
The sun came and went. We passed a couple of families out on bikes. We also found some perfectly ripe blackberries on our way to the picnic spot.
Spreading out our Snowdon PACMAT, after about 8k, we cracked open the picnic. Basil had his usual (an old peanut butter jar filled with dried food) although he preferred the look our our cheese.
We packed up (making sure we'd not left anything behind) and walked to the heritage centre. We've never been here while it's been open before so it was nice to have a look around and the staff are very friendly.
Then on with our walk. Another 8k until we were back at the large flat before the train station. Basil met another lurcher, lola. She was much larger than him and could really cover the ground. They both had  a good play before we hopped on the train back to Hackney.
Living in London zone two, it's amazing that we can reach scenes like this on our local overground so easily.
We'd love to see what you got up to for National Get Outside Day. Do share your pics and tag us #PACMAT
#Explorefromyourdoor
---