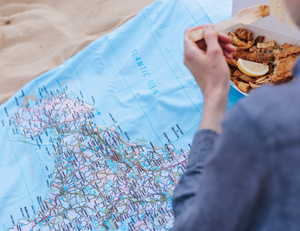 National Fish and Chip Day!
Today, June 2nd, is National Fish and Chip Day.
It's a day to celebrate this traditional meal of the working classes throughout the United Kingdom. Where did this meal come from? Founded in 2015 by National Edible Oil Distributors Association. But the history of fish and chips as a meal comes from the late 1800s when trawl fishing the North Sea brought in plenty of readily available fish. This made it reasonably priced.
The working class at the time tended to have physically demanding jobs meaning they needed a high calorie diet. Battered fish and with chips provided this, and because of the availability, it was a fairly cheap meal.
These days fish and chips are enjoyed around the world, often served with mushy peas.
Where will you celebrate National Fish and Chip Day? In this picture we're sat on the Isles of Scilly!
---