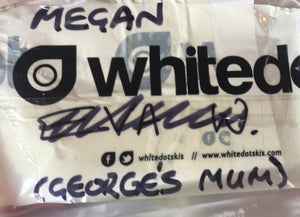 Move over Eva
It's a lot to live up to. Pre-owned by Eva Walkner, prepared for me by the lovely Jim at EchoBase, a pair of WhiteDot Directors for half term.
It's not that I'm any good but I'm told that these skis will make me look good. Super cool and easy to ride.

Apparently its ease of use, playfulness and versatility make the Whitedot Director their best seller. It's all about lightweight skiing. I think I might just be a lightweight, but lets see if I can keep up with the kids over half term.

I will be the one carrying the picnic, along with my thermal patch, to make sure they HAVE TO wait for me. Just incase. Chocolate biscuits included.
#Findyourfreedom #offpiste #skiing #halfterm #getoutkids #getoutdoors #getoutside #picnic

---