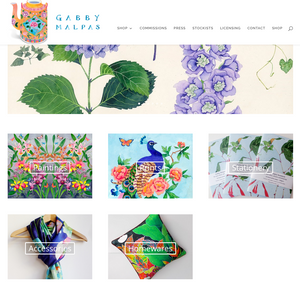 Meet the artist

You might have noticed we have a few PACMAT prints created from paintings by Gabby Malpas. Gabby is an NZ artist who has lived in Sydney since 2003, after living in the UK for 14 years. It was whilst she was living in the UK that we worked together and became close friends.
Gabby has created art for three decades, whilst also holding down a job as project manager for large design and web agencies. In 2014 she became a full-time artist. 
Originally Gabby studied ceramics, training as a potter. but when she left art school she no longer had access to the equipment, so turned to inks and watercolours. And we're very glad she did.
"Plants and gardens have inspired me my entire life. I have always loved flowers, and have spent years learning how to capture what I see, but in a way that is unique." Gabby Malpas
PACMAT patterns featuring Gabby's artwork include:
Butterflies |  Cats | Dogs | Lollipop | Poppy   
See Gabby's cushion covers too.
If you like Gabby's work do have a look at her shop here http://gabbymalpas.com/shop/
Gabby's work can also be found on beautiful homeware, stationery and clothing.
See where here http://gabbymalpas.com/licensing/
Read more about Gabby here 
https://www.onekingslane.com/live-love-home/gabby-malpas-art/
https://www.artpharmacy.com.au/blog/2015/9/17/interview-with-gabby-malpas
---