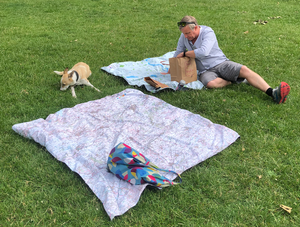 Lunch out, out
The weather here in East London has been wonderful this week. Not too hot, no rain and with a gentle breeze. We thought we'd make the most of it and head out to the park for lunch. It's always great to get away from the desk and outside for a break during the working day.
A couple of PACMATs and a bottle of water in the bag, we headed down to pick up a (massive) sandwich on the way from Bread & Truffle and then went on to London Fields to find a suitable spot to picnic. 
Basil always like to stay close to the potential of cheese sandwiches, keeping a close guard. He can get quite territorial about his picnic spot. 
The PACMAT Pointy marks the spot.
---