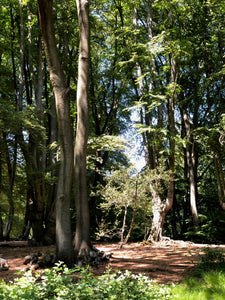 London, into the Forest
The last day of half term, having spent most of the week at home, it was a beautiful day to set off for a picnic walk. We didn't have time to travel far, so opted for the overground from our local Hackney Downs to Chingford. From here we could walk in Epping Forest.
It's only, at most, a forty minute ride on the overground, and after leaving the train at Chingford, just five minutes walk from the station and we found ourselves in a vast buttercup meadow, just down Queen Elizabeth's Hunting lodge. The open field was hot, so we were pleased to walk into the shade of the trees. The paths are clear, wide and easy to follow. We saw a few other people, but for a sunny Sunday in half term, it was fairly quiet.
Walking on into the forest we found a nice resting spot to enjoy the shade, too early for a picnic. Basil wasn't keen to sit down at all and kept choosing ridiculously sized sticks (branches more like) to be thrown.
We packed up and walked on, following the Epping Forest Golden Hill Trail.
It's all very well sign posted, on the main tracks.
As we walked on, we built up an appetite. We found an opening in the wood which lead to an empty field at the top of Debden camp site. It was the perfect picnic spot. We had a couple of cheese sandwiches and Basil had his dried food and a little water.
When we'd finished munching we packed up (making sure we'd left no trace) and headed back into the wood and around the edge of the campsite, joining the woodland path again.
Heading through a couple of gates, and on into another buttercup field. From the top here we could look back and just about make out the city. 
After a short walk along the road we reached The Bull, looking very inviting, we popped in and had a cold drink in the garden. The PACMAT came in handy again for Basil, who hates to sit on the concrete ground.
Just around the corner, was the tube line, Theydon Bois. A beautifully kept station. This gave us a ride to Stratford, where we changed to get onto the overground back to Hackney Central and home.
A lovely afternoon out, and all easily reached by our local train.
---