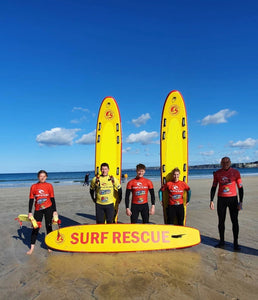 Life savers!
After loving spending time at Gwenver beach in the summer our eldest set her sights on becoming qualified to be a life guard. She found a course in Newquay with 4 elements adventure, got permission to take a few days off school and signed up. 
The qualification is called the NVBLQ, National Vocational Beach Lifeguard Qualification. With this you can be come an RNLI lifeguard. It's also recognised by the International Life Saving Federation, so allows you to work worldwide. To get onto the course, you have to apply and then be approved. Every candidate must be a strong swimmer with a good level of fitness (and they really mean it).
The course is run from Newquay Activity Centre, Towan beach, Newquay. A large part of the theory was run via zoom lessons beforehand but for the practical part we had to head to Cornwall. It's a long train journey from London - 5.5 hours, but oh, it was worth it. We arrived early evening and went to meet friends at the Fistral Stable for pizza and the most stunning sunset.
The following day we were up early. The practical part of the course was for three days. I'd heard that October is a great time to learn to surf. The water is still warm from the summer, but the waves are strong. So while she was doing the course, I signed up for surf lessons.
. 
. 
I had thought that after the lessons I'd walk back to the hotel to get changed and go for a run. But each day I only made it as far as Fistral Beach for a sit down on my PACMAT and a watch of the other surfers.
It was a brilliant, exhausting week. She passed. I stood on my board for a nano second. And we both absolutely loved spending quiet time by the sea.
---