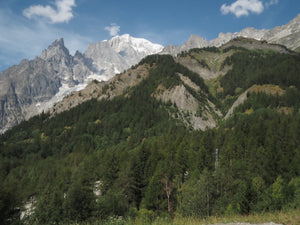 Italian picnic walk
Enjoying their time together, (before the rest of the family arrived), Basil and Guy went for a 20km jaunt up from the small commune of La Palud where the old Funivie Monte Bianco station used to be just outside Courmeyeur.
They worked their way up steep winding paths to join the TMB and joined the trail in peak season. Not so busy they couldn't keep a nice distance from other travellers they followed the path to the Refugio Bonatti, stopping for a picnic lunch on a small grassy knoll with spectacular views views of Mont Blanc and the Grande Jorrasses.
As they came down from the refuge, the true scale of the mountains opposite became even more apparent. Walking back on the valley floor following the river, they looked up the steep glacial slopes of the range from Mont Dolent to Mont Blanc.
---