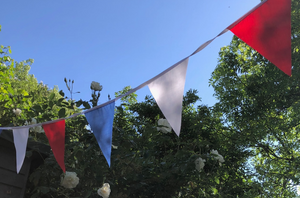 How to Plan an Epic Jubilee Weekend Picnic
Thursday 2nd to Sunday 5th June 2022 is four-day UK bank holiday weekend to mark the Queen's Platinum Jubilee. With the weather warming up, it is the perfect excuse to host the epic picnic you've always dreamed of. Here are some tips for an incredible and sustainable Jubilee picnic.
Acquire some sustainable decorations
 You can still go all out with your celebrations without the need for plastic. These stylish paper decorations from Pico are reusable, recyclable and plastic free in product and packaging, or try these from or these from 900 Pink Tulips.
Choose a location close to home
Avoid a hot car journey this bank holiday, if you can, and opt for local green spaces. If you are a Londoner like us, there is no need to travel far to find amazing green spaces. London's 8 Royal Parks make a fine spot for any picnic, particularly a Jubilee Weekend one! Check out The Outdoor Guide for some picnic walk inspiration.
Invest in some quality dining materials
The bank holiday weekend is the perfect excuse to ditch the single use for good. It may seem like the easier option, but throwaway cutlery and plates will not only cost in the long run but are among the most dangerous items for the environment. The Plastic Free Shop has a great range of products to make for a luxurious and sustainable picnic.
As to not end up with five rounds of cucumber sandwiches and no Victoria Sponge, pre plan your picnic with friends. Each bringing an item or two will save money and hassle as well as food waste! Bringing tuppaware or resuable containers like these from the Outdoor People for leftovers is also a good idea, because who would want to see a trifle go to waste!
If you are feeling creative, split into colours to make a red, white and blue picnic (think strawberries and cream, blueberries, red pepper slices...).
A reusable multipurpose picnic blanket
Red, blue or even a regal purple make obvious colour choices for a Jubilee picnic or, opt for a summery butterfly print to welcome in the warmer weather. A few clips mean that your PACMAT can quickly become a tablecloth making it useful for an inevitable Jubilee street party as well!
---