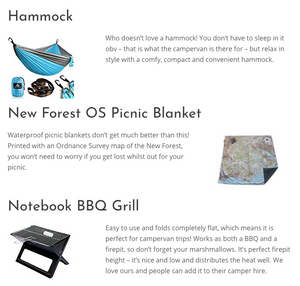 Gifts for campervanners
Team Shore Campers has been on the look out for the most wanted gadgets and gizmos for campervaners.
Lovely to see the Ordnance Survey New Forest PACMAT featured along with a bluetooth speaker, hammock, Notebook BBQ Grill, portable expresso machine and a ridgemonkey amongst others. All small, compact and clever. Everything you'd need for kitting out your camper.
---