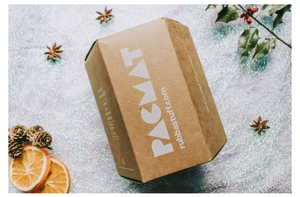 Gift ideas for 3 year olds.
How lovely to find PACMAT featured in "Me Becoming Mum Blog" gift list.
Naomi is a twenty eight year old wife and mama, blogging about the realities of parenthood and marriage. From pregnancy to travelling with children.
In her gift list she features the "7 Gifts" idea. Something they NEED. Something they WANT. Something to WEAR. Something to READ. Something to DO. Something for ME. Something for FAMILY (PACMAT!)
"It's maybe a bit out of season but an Ordnance Survey Lake District picnic rug* is great as a Christmas gift for children to explore even if you're just setting up an indoor teddy bear's picnic. Ours is in the car and until the picnic season returns in 2020 is likely to only be used for games or in an emergency (great for not sitting on the cold floor if you car breaks down!) The best part is the girls can spot places we recognise, visit and even the area we live on this one! There are other maps available too, so why not see if your hometown is on a picnic rug for your family?"
---