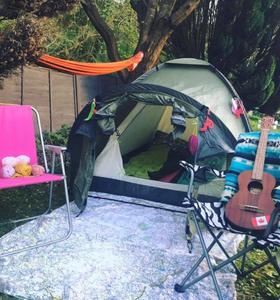 Festival hacks and must-packs
PACMAT as sunshade
Tents can get unbearably hot in the summer, and this becomes especially evident when you're in need of a midday snooze between sets. Packing some pegs and string will turn a picnic mat into a sunshade to keep you tent cool dark and nap-proof. And if it rains, reverse for an equally useful waterproof. The strings and pegs can then double as a drying line!
SPF
A must take anywhere at the moment, but especially festivals where you will be spending most of your day in the sun. Opt for environmentally friendly brands where possible and don't forget to reapply!

Sunglasses plus sunglasses strap  
For most people the festival rule goes, don't take anything you couldn't bare to lose, break or ruin. But for those who want to pack a pair of quality sunglasses, why not make a bold fashion statement with some snazzy sunglasses straps and avoid losing your shades to the dance floor.

Solar powered kit
If the weather is on your side for the festival, take full advantage with solar powered lights and power packs.

Boot jack
If you've ever experienced a wet year at Glastonbury this will require little explanation. Whilst they can be a little bulky you will have no regrets about packing a boot jack as you watch the rest of the campsite wrestle with their wellies whilst your hands stay mud free.
---