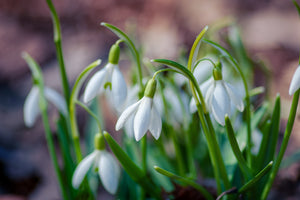 February wildflower spotting
Spring may still seem a long way off as we battle the windy rainy winter. But Mother Nature is beginning to shine through and there is plenty of beauty to be seen through the cold and grey!
February is a great time for wild flowers. Why not head down to your local park or woodland and see if you can spot some? These Wildflowers of Britain and Europe Playing Cards will help you to identify and learn more about the wildflowers you find!

Snowdrops 
The appropriately named, Snowdrop, can be found in January but peaks in February and March making now the perfect time to find them.
Daffodils
These bright yellow flowers are easy to spot throughout March and February.
Primroses
Primroses flowers throughout February and up until May. They are best found in shaded spots such as woodlands and hedgerows.
Spring Crocuses
Spring Crocuses are common in the South of England and bloom from February to April.
Photographs: Yoksel Zok,  Niklas Ohlrogge, Brittney Strange, Dawid Zawila
---