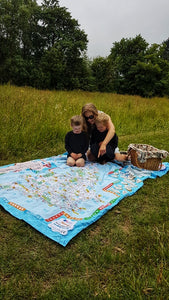 Family Edventures
10 outdoor essentials for babies & toddlers to enjoy the outdoors.
"Spending time outdoors as a family is great for your health and wellbeing but sometimes it can seem a little chaotic getting out the front door!

We have two energetic little boys so having our favourite waterproof backpack packed ready with some outdoor essentials means that we are always ready to head out on an adventure together.
What outdoor essentials do you need for babies and toddlers?

Top of the list has to be our waterproof blanket because we take it everywhere we go.

We use it for picnicking, naps, chilling and playing.

If you want a truly awesome picnic blanket that is built to last and incredibly light (and beautiful) then you really should take a look at PACMAT picnic blankets.

They are waterproof and washable and best of all it really is family sized. 

Ours has an amazing map of Britain on it and includes lots of fun games to get everyone thinking and moving."
---