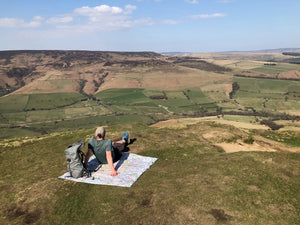 Every good view deserves a bit of a sit down
We stayed in Buxton the night after the Peak District Foundation Peak District National Park 70th birthday celebrations. And what a glorious day it was the next day. Far too good to travel back to London so we treated ourselves to a picnic walk!
We parked up in Castleton and headed up to Lose Hill, along the ridge to Mam Tor, down to Rushup, across to Cave Dale and down back to the George at Castleton. Plenty of sit downs on the way.
The weather was stunning, the views beautiful and the landscape quite fascinating. I've since learnt some interesting facts about the area from PeakLass which made good reading for the journey home.
---