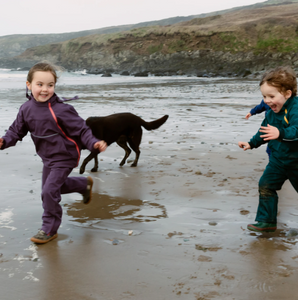 Easy outdoor gear for kids
Get the kids outside, whatever the weather!
We are strong believers in outdoor play for kids. Let them jump in puddles or roll around in mud, then come back to sit on a fully washable PACMAT picnic mat for a picnic refuel.
There is so much to love about Kidunk's new range of eco conscious, all weather children's wear. Kidunk certainly shares our passion for easy outdoor gear, with these waterproof, durable and breathable two-piece outfits. The practicality and comfort that both Kidunk and PACMAT strive for means you are free to enjoy the outdoors whether the British summer brings rain or shine. Pair your family PACMAT with these outfits and kids will be warm and dry for playtime and picnic time. Kidunk's range waves goodbye to the days of worrying about muddy trousers and wellies - simply unzip, machine wash and dry!
As for most outdoor lovers, preserving the areas where we spend so many hours playing and picnicking is something rooted into Kidunk's ethos. The materials used in their range are eco certified, made by recycling plastic bottles into a durable fabric, complimented by a soft fleece layer and reinforced knees. The smart eco fabric is then coated in plant-based water repellent - Teflon EcoElite™. Not only this, but Kidunk are partnering with 1% for the planet to take direct responsibility for their environmental legacy so you can protect the kids as well as the places they love.



Available in Forest (green), Ink (blue) and Plum (purple) and with hooded tops and zip on trousers, all you need to do is get down to your favourite outdoor spot for some carefree tree climbing, football kicking, den building, muddy puddle jumping and picnicking!
You can find out more about Kidunk here: https://kidunk.com/
If you fancy getting 10% off you can use the code PACMAT at the checkout!
---