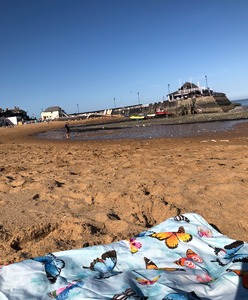 Day tripping
The weather forecast looked perfect, so we decided to do a day trip to the seaside by train and bike. On some train routes you have to book your bike on, but St Pancras to Margate, you can just rock up. So we set off from Hackney by bike, along the cycle way to St Pancras. We'd just missed a train, but it was very pleasant doing a bit of people spotting in the square opposite the station. The next train we could get with our cheaper tickets was about an hour's wait.
It wasn't very busy, we were easily able to get our bikes on, and settled down for the ride to the seaside.
It was a smooth journey to Margate, we got off the train and decided to explore a little on the bikes. We found ourselves some take away picnic ingredients and headed down to the beach. The sand was a bit wet, so it we were very pleased to have our PACMATs with us.
After lunch we decided to visit the Turner Gallery we've heard so much about. We had a quick scout around the exhibitions and shop. We then went for a walk along the peer to look back at Margate from a different angle. There were paddle boarders and sailing dingeys getting ready for an afternoon of adventure and family groups on the beach playing ball, looking for shells or just having a natter.
Looking at the map, the route around to Broadstairs looked easy. We decided to take the coastal route. It was mainly easy, gentle cycling with only a couple of hills. We passed street art, lidos and a golf course, arriving in Broadstairs town centre. It's a picturesque town with lots of Georgian buildings including the Dickens House Museum. Sadly we'd missed the museum, so we wandered down the street towards the beach and found ourselves a nice spot for afternoon tea on a PACMAT. The sun was starting to dip, so after a while we headed off, leaving the group of teens to their party on the beach.
We were starting to be a bit pushed for time, so we shook off the PACMATs, packed our bags and set off for Ramsgate. After a unplanned detour we arrived at the train station. A beautiful building with lovely friendly staff. We were just in time for the train back to Stratford. And from there it was a short cycle home. (Fares were cheaper out from St Pancreas than Stratford international but on our return we took advantage of the earlier stop and saved the hill back up to Hackney from St Pancreas).
A wonderful picnic day trip. I think the Kent Coast would be a perfect area to cover with a PACMAT.
---