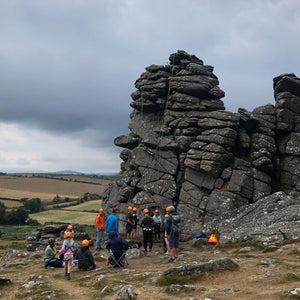 Dartmoor climbing
It was the last day of our group together on the moor, so we wanted to do something the kids (and adults) would especially remember. We booked in for a half day with Crag 2 Mountain. I'd first came across of Crag 2 Mountain when I was watching Julia Bradbury's Dartmoor Walk on ITV, featured here on The Outdoor Guide.
The previous week had been crazily hot so we'd mainly stuck to wild swimming, walking in the shade of the woods or going out early or late. But thankfully the day we booked, we'd got back to Dartmoor weather. It was overcast with a hint of drizzle. Perfect.
We were a group of twelve with mixed ages, abiliities and experience which I thought was going to be quite a challenge for Connor, our guide, but he seemed to take it in his stride and was especially good with some of the more nervous, younger ones in our group. And yet at the same time, he was able to keep the teens, who'd done quite a lot of climbing, interested and engaged too.
We met him in the car park at Hound Tor. He kitted all of the climbers out with hats and harnesses. Once ready, we walked up to the Tor. It was a perfect spot for even granny to watch, wrapped in a PACMAT. Connor was amazing with such a mixed group, he managed to keep everyone stretched and involved.
Guy, Basil and I, not part of the climbing team, went for a wander and found a perfect PACMAT spot to watch them from, from above.
And after everyone had been up and down quite a few times Connor took them off for some rock exploring. We could hear the giggles coming across on the wind.
At the end of the day all came away with a huge sense of achievement, wanting to do more. A great way to end a holiday.
Time for a cuppa and cake at Cafe on the Green.
---