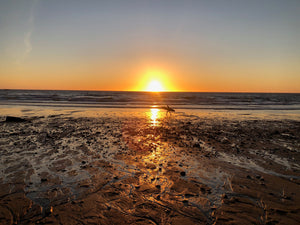 Camping above sunset beach
We loved Gwynver beach so much we decided to camp for a few nights right above at Trevedrafarm.
It's an amazing spot, with a sea view, just a short walk from the beach.
(The picnic bench was a lucky find - The PACMAT made a perfect table cloth).
After a day on the beach, it's easy to head back to camp to clean up and have supper before going back down to the beach to enjoy the last of the day and the fabulous sunset.
---