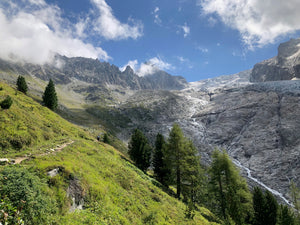 Break a leg!
It was a stunning day. The kids had been invited to go canyoning with some friends, so we thought we'd make the most of it and take the dog for a picnic walk.
Dogs aren't allowed to walk in the French National Park area so we drove to Col de la forclaz. A road very popular with road cyclists, just over the boarder in Switzerland. Before setting off for the walk we stopped at the hotel and sat outside to have a cup of coffee, watching the bikes go by, reminiscing about our motorcycling days.
Fuelled up on caffine, we set off across the meadow, where the cows were grazing donging their bells, and up onto a path with water channels on one side and interactive information boards for kids and a steep drop on the other. The views were spectacular.
We reached the hut, with a busy hum of resting TMB walkers, and walked on by along the roaring river, then veering left the path started to climb, gradually heading away from the noise of river and up out of the trees.
We walked up and up. Often passing groups of walkers with big packs on their way down, treading carefully on weary legs carrying big loads. Basil trotted on ahead, stopping to check we were still heading his way every now and again.
With each step, the glacier revealed itself a little more. We reached a good point, just above the bivvy hut, with a perfect rock for a picnic. By this point my legs were tired. I was thinking of the journey down and wondering if it was sensible to keep on going up as they day was getting on. After a refuel of cheese sandwiches I was persuaded to try to head for the summit for just another twenty minutes and see how I felt. The thought of the view and feeling of achievement was very tempting.
We plodded on. It was hot and steep. Knowing how far I had to walk down, without sticks, after my twenty minutes I thought the only sensible thing was for me to turn back while I still had the light to take my time and watch my step.
Basil and Guy pushed on to the top. Basil, ever faithful, trotting alongside Guy. While I waited until he was out of sight before heading down (so that he didn't decide to follow me instead). I had a lovely, relaxed walk on the way down. Enjoying the view every step of the way, passing our picnic spot and on down back to the river. I stopped and had a rest on my PACMAT a while, listening to the river and enjoying the solitude, with a short walk to meet the gentle mull of people at the buvet, arriving just in time for a beer. 
No sooner had I sat down to enjoy the fresh, cold drink I'd been thinking about a lot of the way down, did I get a text. "I've broken my leg (again)!" At first I thought it was a joke, a very odd joke. But quickly came to realise that he was very, very serious. I had to get back up the hill fast to wave in the helicopter and take the dog. A Swiss man and a couple of girls from Belgium were with him when I got back. They had kindly called the emergency services. It was getting late in the day, so they all had to get on their way. After about half an hour we could hear the dull drum of a helicopter. 
Standing with my arms stretched into a Y, trying not to pull the dog off the ground, with the lead wrapped around my arm, I waved them in. The grass was flattened by the force of the wind from the propeller. Basil and I tried to shelter behind a rock. Two people hopped out and started to attend to Guy.
He was asked if he wanted anything for the pain and eagerly accepted whatever they had to offer. His leg was placed in a splint and he was attached to a harness. The helicopter came back and off up he went. The paramedic checked in with me, asking if I was okay to walk down. With Basil, I didn't see what choice I had. I made sure I grabbed the head torch from Guy's pack before it went and headed off with Basil. It was about an hour or so walk back down to the car and the light was going. 
Guy was taken to Sion hospital where they fitted a metal rod in his shin, using very neat key hole surgery. He was kept in for three days. Basil and I headed back to our apartment and prepared to leave for Italy.
---