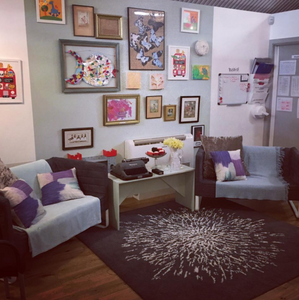 Bold Women in Business
Not really a title I would expect to find myself below but Fount London, a new lifestyle destination concept, housed in 3 railway arches in East London, cool childcare, pop up shops, vibrant cafes and retail units, founded by Rachel Munro-Peeples and Elena Mackey, asked me to take part in a talk about entrepreneurs and networking. I joined the panel with Gayle and Cat from Hustle and Fox and Lisa from TantrumXYZ.
Initially I thought this was a rather odd subject for a chat. I don't network. I am lucky enough to know a lot of people I like, respect, who sometimes have mutually beneficial skills. Most of them make me laugh too and are good fun to both socialise and work with. They are the ones I choose to stay in touch with. Opportunities to connect people sometimes crop up, so I do. We share experiences and opportunities, each shaping one another's future. Perhaps I do network after all. 
I put a few notes together in preparation, below. I'm not a great talker.
The talk itself turned out to be mainly focused on Instagram. I'm only just getting that hang of this with help from the kids. I would think carefully about what you want to achieve if you're using business time on Instagram. What is the outcome you're after? Is it important to get lots of followers or is it a support to your brand? I've found it useful myself to work out what our values are; green, outdoors, active, family focused. There are a few accounts sharing similar values and we seem to support each other. But there's a lot of noise and it can take up a whole load of time. Do we get any sales from Instagram? No. I don't think so, not looking at our analytics. And I have no desire to be an Instagram celeb. That said. I love pictures but commenting for the sake of commenting all seems rather empty. Perhaps I'm just in the wrong gang.
My background notes:
What is an entrepreneur?
What's the difference between entrepreneur and freelancer?
A freelancer gets paid for their work an entrepreneur uses capital to create a business larger than themselves.
Parents make good entrepreneurs
Multitasking
Used to being up at 3am and 6am
There's never a good time to start working for yourself

Parents as entrepreneurs
It starts with you.
Look after yourself.
Half an hour running goes a long way.
Believe in yourself
Use your time wisely
Don't complain, make things better.
Look after your family.
A small business will have ups and downs, as a parent you must remain constant no matter what's going on at work.
A few things to keep in mind
Choose wisely who you hang out with and how you spend your time.
Look after the good people.
Learn from those with more and those with less experience than you.
Understand other people's roles.
Look for inspiration everywhere.
Have fun. Do something you love.
Seek out mentors.
Listen.
Prioritise.
Accept help.
Focus on positives.
Have the ability to change direction quickly.
Know when to drop something.
Learn from your mistakes.
Networking
What are the opportunities?
Who will you be talking to?
What common ground might you have?
What do you want to get from a situation?
What do you want people to take away with them?
Define yourself
Define your business
Define your values
Requirements
Background
Objectives
Strategy
Competitor framework
Target audience
Desired response
What do you want people to think and do?
Single minded proposition
Support for the proposition
Mandatories and constraints
Inspiration
Super power
Define your strengths and weaknesses
What is your super power?
(Thanks to Tina Ross Eisenberg)
Objective
What do you want people to think and do?
Why should they?
Does your network define you?
Network > You < Network
Complimentary personalities and skills
Opportunities
Experiences
Rules for life
Embrace your superpower
Don't complain, make things better
Choose wisely who you hang out with
Don't forget to play
Push to be better

I found this a really inspiring video


Thanks to Tina Roth Eisenberg
#WBIB
---