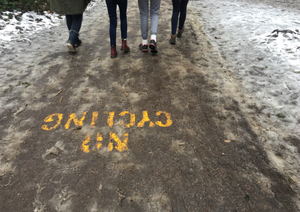 Birthday treasure hunting
Team work!
What could be more fun than running around outside, excitedly, with a group of friends trying to work out clues with the possibility of being on the winning team?
That's what Eliza had in mind for her birthday party. It's great fun and it's free but it does take a little planning. We decided to organise ours in Hampstead Heath, an area the kids don't know too well with plenty of variety of outdoor space. After a couple of recce trips put together a list of clues. We couldn't leave clues in place, as being a public area, they'd probably get removed. So we used permanent items to base the hunt on. We measured the distance, and thought it was probably about right to stretch them all, timed the route and found a warm cafe for Granny's base. 
Of course the plan originally was to have a PACMAT picnic, but we hadn't banked on having snow! The Lido Cafe at Gospal Oak was brilliant at providing a choice of two different sorts of soup and bread for a reasonable cost to warm us all up before we set off. And hot chocolates on our return.
We sent one team one way, and one the other so that they wouldn't follow and copy each other. Each team had an adult lurking, but not helping out at all.
The route was roughly 13k. with 12 clues and took us about 2 hours.
They were given a map, with the clue points marked on, a list of questions and a pen. At the end, we checked all questions were answered correctly (and no cheating had taken place) and awarded a bag of treasure (golden easter eggs) to the winning team.
We had a great time and would love to do another one. If anyone has any suggestions of other treasure hunts.
NB. We made sure that everyone came with comfortable footwear and warm, waterproof clothes. 
Our map and clues are below incase you want to use them.
1 What was William Garrett
A. A gentle man
2. what is the water here
A. Water is cold, untreated and opaque
3. What colour is my bike?
A. Yellow
4. How fast can I go.
A. 12MPH
5. Who said 'They could do with a bench here'
A. Lewis Greifer
6.Who made the enormous figure
A. Henry Moore
7.Who Owned Athlone House
A. Sir Robert Waley-Cohen
8. How many Rubens on a bench
A. 2
9. Who swims here?
A. Women only
10. How high is the tallest building I can see from here?
A. 310m
11. What time do I close in Winter?
A. 4pm
12. How far does the coffee go?
A. Square Mile
---