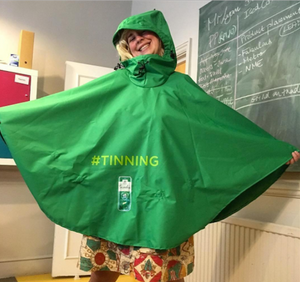 Bespoke ponchos for Gordon's Gin
Taste-PR got in touch with Rubbastuff when it was working on a campaign for Gordon's Gin ready mixed gin and tonic, aimed at festival goers. They called us to see if it was possible to create a bespoke poncho for their client.
We looked into different colour and fabric options, slightly tailoring the design. We also looked at transfer solutions to get the brand and hash tag, #tinning, onto the poncho, creating visuals for the client and final artwork for production.
We are very pleased with the results. The poncho is durable, reusable, washable, waterproof (with taped seams) and a slight variation on our standard PACMAT poncho's, being single shell.
It was sent out to key festival contacts in a goodie box. 
Do get in touch if you want to discuss a bespoke solution.
Images from instagram posts, thanks to @haylzee @tastepr and @nicolebuzzz
---