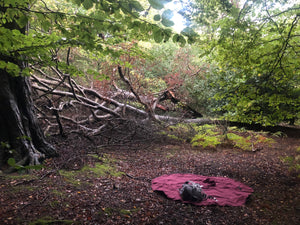 Autumn days in Epping
A perfect day for wet walk in Epping Forest. 
There's a smell of Autumn in the air. Leaves are thick on the ground from which the trees stretch up, twist tall and shine. The golden colours warm my eyes and yet there's a lurking of the coolness of winter to come.
Guy's leg is getting stronger. He's able to walk a little now, with the aid of a stick but the PACMAT Poncho came in handy for a few rest stops along the way. It's a beautiful time of year but everything is a bit damp.
---