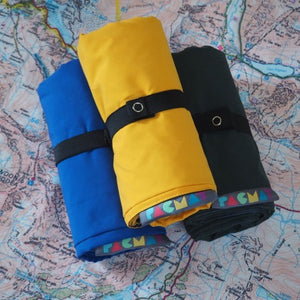 A new addition to the Ordnance Survey Shop
Signature PACMAT Solos in yellow, blue and green are now available to buy from Ordnance Survey.
These multi purpose mats make perfect walking companions.  They are 140cm x 60cm - about the size of a large towel - and have a waterproof backing and soft, quick dry top. Weighing only 210g and rolling up to a very compact size, they're easy to take out anywhere with you. Great for park and garden work outs or just a little bit of outdoor snoozing.
Available to buy from Rubbastuff and Ordnance Survey.
---