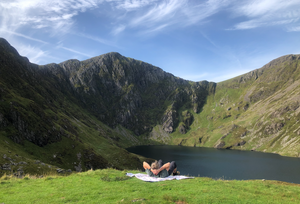 A perfect autumn day for a picnic hike
Cader Idris via the Minffordd Path
As the vibrant foliage of autumn embraces the Welsh landscape, there's no better time to embark on an adventure up the legendary Cader Idris, one of Eryri's most captivating peaks.
We woke early and set off from our B+B to the Minffordd Path car park. It was a beautiful day, inevitably quite a few others had the same idea. The car park was buzzing with people preparing their bags and footwear for a day out on the mountain.
Once ready, we headed off from the car park, crossing a river, past a closed tea room and followed the path on up. The trail winding its way along a river and through ancient oak woodlands. As the ascent began, the trail gradually opened up, with fantastic views of the lake and valley. Spoilt for choice for perfect places to stop for a little sit down, and catch our breath.
After a long walk up (and down a bit and up again) we reached the summit). It was gusty at the top, but the views were great. After the obligatory photo we headed down a little, looking for somewhere more sheltered to stop and snack. 
Refuelled and energised, we set off to complete the loop. Walking along the shoulder and then heading down. Finally we reached a new path that seemed to go on, down forever… then back across the stream and rejoined the woodland path we'd headed up on.
Earlier this year we had hiked Cader Idris from the other side, so it was interesting to do the Minffordd Path. What a fabulous and exhausting day out. The best kind. We hopped into the Bongo and headed on our way to Chester. Refreshed.
---