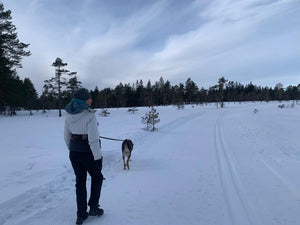 A weekend in Norway
A joint birthday celebration, a 19th and a 60th. We went to join my sister who lives not far from Oslo for the weekend.
Of course, a weekend away for us has to include at least a picnic or two! We arrived late on the Friday night. We woke up on Saturday to glorious weather. Fresh snow on the ground, blue skies and sunshine. After a good breakfast filling we got wrapped up and popped spikes on our boots to head out for a picnic walk. 
Our Norwegian style picnic consists of good bread, single sliced with a topping of thinly sliced cheese and pesto. Paper sandwich sheets separates the slices in the Tupperware box.
We set off for our walk, with Luna the Alaskan husky attached. She was very helpful for the up hill bits, but made downhill, on the ice a little tricky. 
Heading into the woods it was like Narnia. Fresh snow and clear air. Occasionally we passed a neighbour, but very few. In the woods we found a hut. This was our first stop for a picnic.
After a little rest here we carried on our walk, down into the town of Heggedal and across to the lake. A clear path across the ice marked our way to the bbq area to meet the others. They'd come down by car with food and wood to light the fire.
Luna gave those who wanted to a ride across the ice.
With the BBQ lit, ready to cook food, we sat close on PACMAT Patches for the heat.
After a fair few hot dogs each, and a little more skating we headed back to warm up by the big fire at the house.
On day two we again woke to blue skies. A dog walk in the morning up in the woods this time, rather than heading down to the town.
. . 
In the afternoon we caught the train into Oslo. After exploring the new library building, and admiring some iceskating we had a bite to eat at the cultural centre, Salt. For a birthday treat we'd booked a floating sauna for the afternoon, koknorge.no
What a great way to spend a couple of hours, listening to music, chatting and getting so hot that eventually we had to brave the ice cold water... then back quickly, into the sauna. After we'd changed and dried off we popped back to Salt for a drink before heading back on the train.
On day three, the 60th birthday day, we headed to my sister's office by train for a celebration lunch put on by her colleagues. After sandwiches, chat and admiring the view we went for a walk across the lake. The boat marks the spot.
. 
Day four, and it was time to head home. We managed a final dog walk around the woods before having to leave.
---