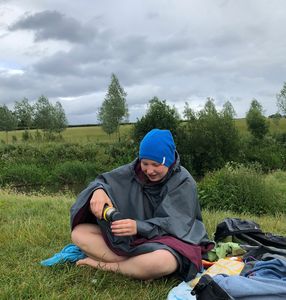 A very wet day
What better thing to do on a very wet day, but to get even wetter?! Rainy days are made for wild swimming, hot chocolate and ponchos.

Our plan had been to enjoy a sunny afternoon around a wild swim spot, but the weather looked a bit grey for sitting around so off we went on a walk, much to Basil, the dog's pleasure. It was wonderful to explore the area. Such variety in scenery and weather.
As we returned to the river, where we'd parked, the kids jumped in. A quick few dips (jumping in from the bridge) before finally admitting to being frozen and back to PACMAT base for hot chocolate.
---